Catholic Social Teaching
Rooted in Love
Catholic Social Teaching calls us all as Catholics to work for the common good, help build a just society, uphold the dignity of human life and work for justice and the dignity of all our brothers and sisters, especially those in the greatest need.
The school follows Rooted in Love programme from Caritas to help children in their understanding and their journey with Catholic Social Teaching.
Rooted in Love is a Religious Education resource for primary schools, developed in partnership with the Diocese of Westminster Education Service. It addresses the objectives relating to Catholic Social teaching from the new Religious Education Directory, including prayer and liturgy ideas relating to the themes as well as suggestions for bringing this work to life in the Catholic life and mission of the school.
Each half-term the children from Early Years to year 6 learn about a different Catholic Social Teaching theme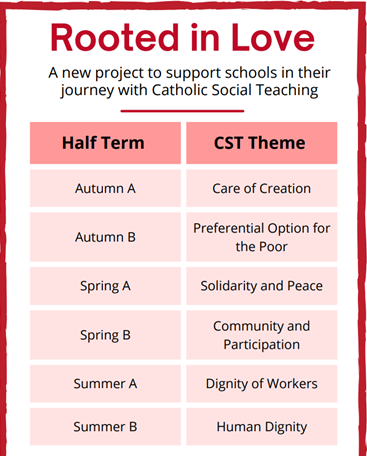 Please watch the short videos below that help explain Catholic Social teaching.
The Common Good
Preferential Option for the Poor
Care of creation
In care of creation, the children learn about the letter of Pope Francis and his message about the world being a gift to us from God, and we need to look after our world. we also have our Eco committee who do a lot of work over the year on looking after our environment.
Human Dignity