Religious Education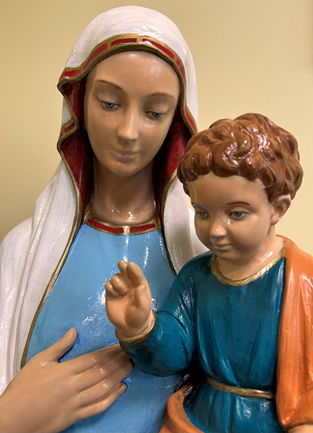 At St Mary's we follow 'The way, the Truth and the Life' programme of study as the basis for our Religious Education teaching. It begins in Year One and goes through to Year 6. It is broken into 6 units across the year. The units are developmental, building on previous knowledge and experience. They take into account the children's age and understanding. This programme aims to encourage children's awareness of the presence of God and to help them respond to that presence. The scheme helps to enable children to learn about the Catholic faith and respond to its invitation with growing faith and love.
Early Years have started to follow the new curriculum directory in their planning and teaching.
Our planning meets the requirements of the Religious Education Curriculum Directory - guidance for the RE classroom curriculum in Catholic schools.
Early Years and the New Curriculum Directory
Early Years Curriculum
The Early Years are now following the new R.E. Curriculum Directory 'To Know You More Clearly' 2023. Religious Education in the Early Years is at the heart of the Curriculum and at the core of learning.
The Early Years have implemented changes to the R.E. curriculum from the 2nd half of the Autumn Term 2023. Religious education is enriched by 'Ways of Knowing' and children will learn by understanding, discerning and responding. The children will be enabled to SEE-JUDGE-ACT in an age-appropriate way.
Each half-term the children learn about a different Branch and within each Branch the children-
Hear -make meaningful connections between scriptural texts
Believe - Catholic Beliefs
Celebrate - Prayer and liturgy
Live - The relationship of faith to life, Catholic Social Teaching
Overview of the branches Taught Each Term In Early Years